Here are a few mangle boards from my personal collection that are for sale or trade. For more information, please write to me at This email address is being protected from spambots. You need JavaScript enabled to view it.
Unless otherwise stated, all my mangle boards are in their original condition, with the original handle and original paint. It was not uncommon for a handle to break during use, and it was then replaced by a new handle, whose wood species, carving and painting differed from the old one. Many mangle boards were also repainted when they were no longer in use, to make them more decorative. What interests me about mangle boards is the combination of useful and pleasant, function and aesthetics. A mangle board without marks of use reminds me of a poorly designed tool or a poorly chosen gift.
You can pay by clicking on the Paypal button below each description, which will add the shipping costs (with online tracking and insurance). Otherwise, contact me This email address is being protected from spambots. You need JavaScript enabled to view it. to pay by bank transfer.
1. Sweden, 1801, 63 x 15 cm. Charming mangle board with its original paint and a series of interlocking rosettes usually found in Norway. It was probably made on the border between the two countries. The horse is elegant, curvy, with a hunched back and busted muzzle. No detail has been overlooked: the reins, the painted saddle, the tail, the slit of the mouth, the ear holes. $650.00
2. Denmark, 1799, 65 x 14 cm. This mangle board is decorated with numerous vegetal motifs (leaves and plants) that can be found even on the horse. The horse has a very long, straight and thin neck, an almost cubist head and a long sculpted tail that looks like a waterfall. A rare detail, an upholsterer's nail decorates the top of the horse's rump. Two breaks at the ends, due to old worm holes. $600.00
3. Denmark, 1861, 64 x 14 cm. Superb mangle board whose appeal lies in the perfect symmetry of the carved motifs in depth, even on the horse. The original dark green/brown paint is applied in a way that highlights the carving, for a very decorative effect. With its original rolling pin. $1450.00
4. Germany, circa 1850, 73 x 20 cm. This is a massive mangle board, the largest I know of. Carved from a hard, dense wood, probably oak, it would have been used to iron heavy, wide fabrics, such as sheets. Despite its almost professional appearance, the mangle board is decorated with various floral patterns, which remind us that it was indeed a gift. $300.00
5. Sweden, 1818, 55 x 15 cm. Mangle boards with a horse-shaped handle are rare in Sweden. The simplicity of the carving is particularly moving here: it is a personal gift, fashioned by a man to the woman he loved. He drew several rose designs but ultimately decided not to carve them, perhaps because he realized that it was beyond his technical skills. A magnificent example of folk art. $550.00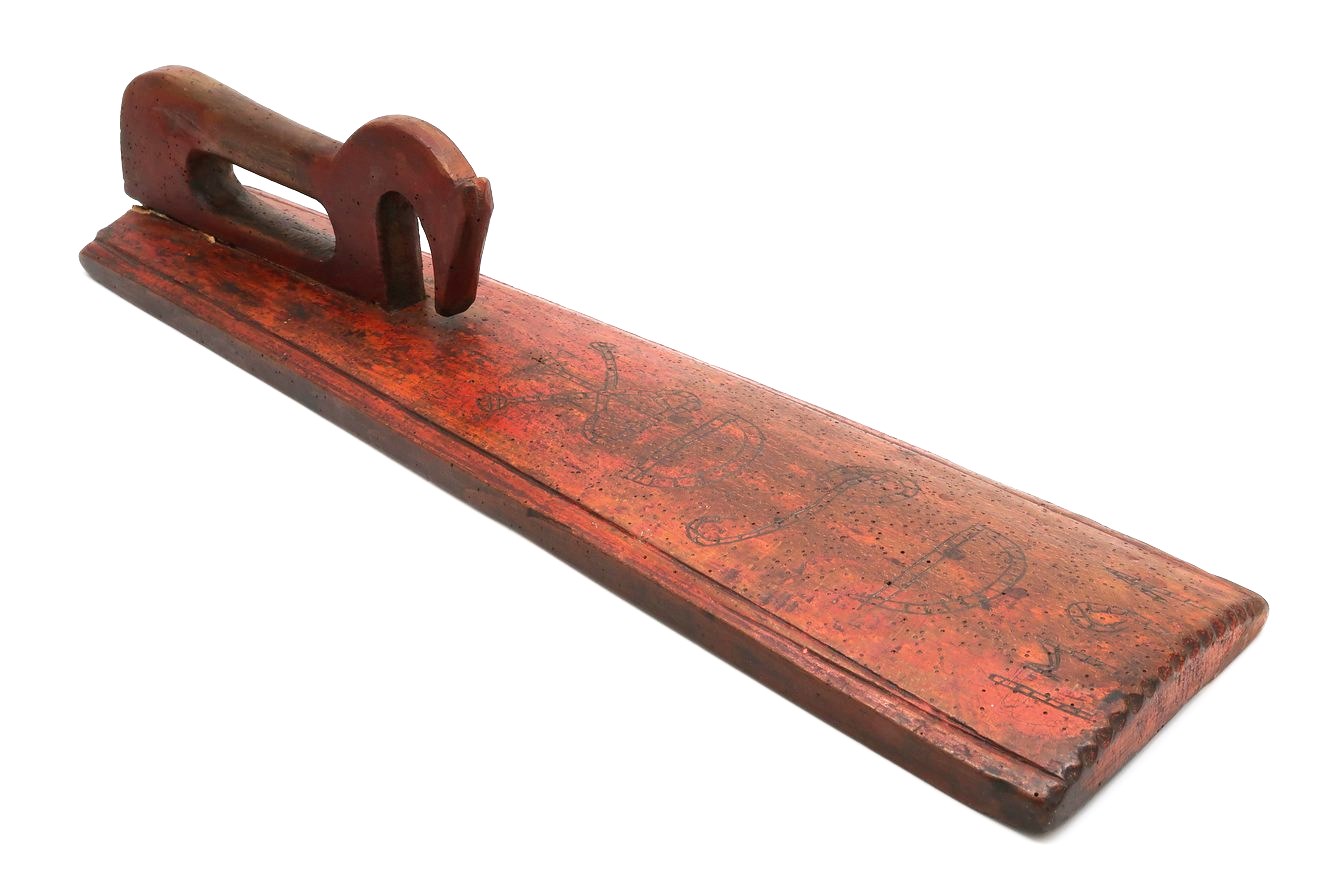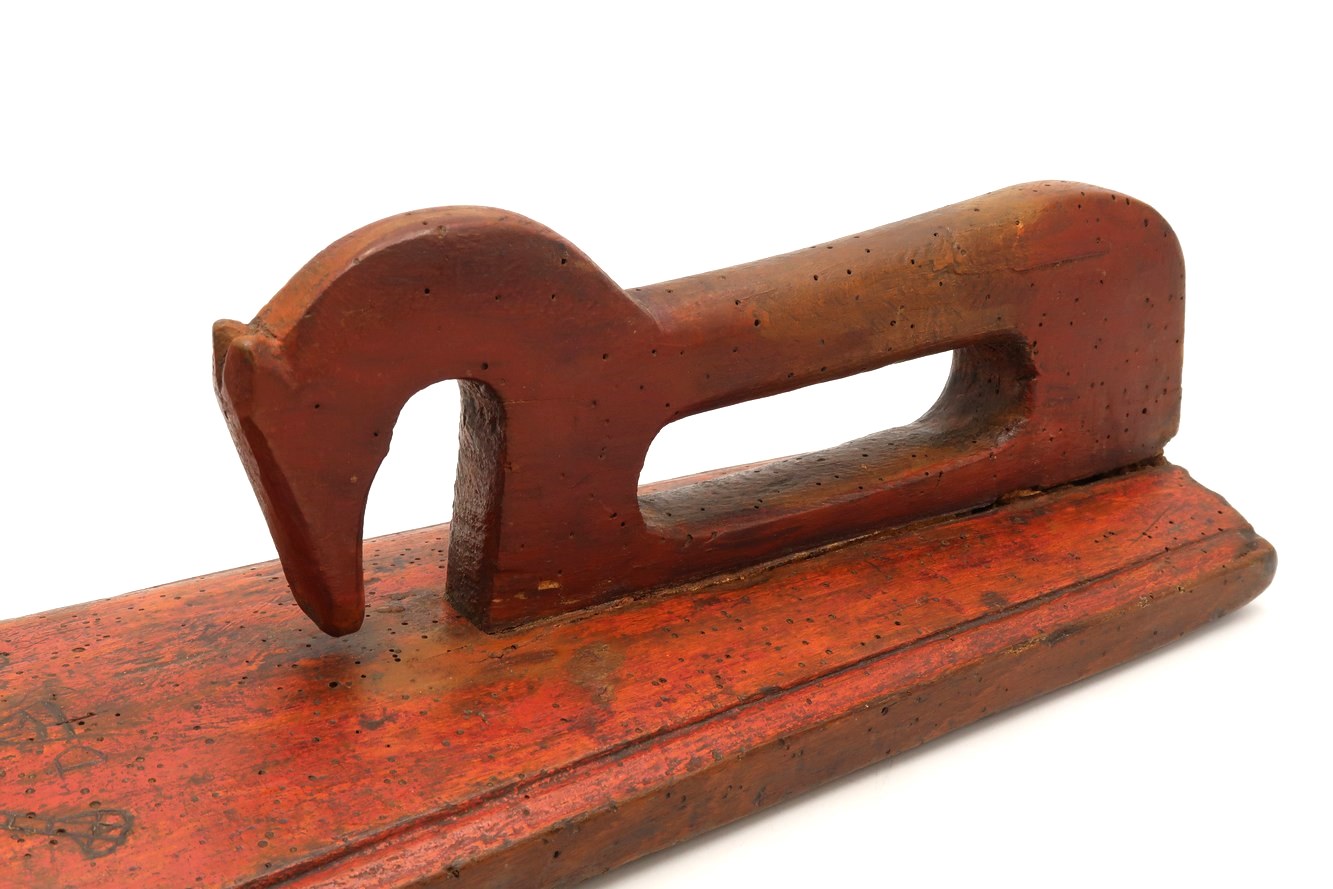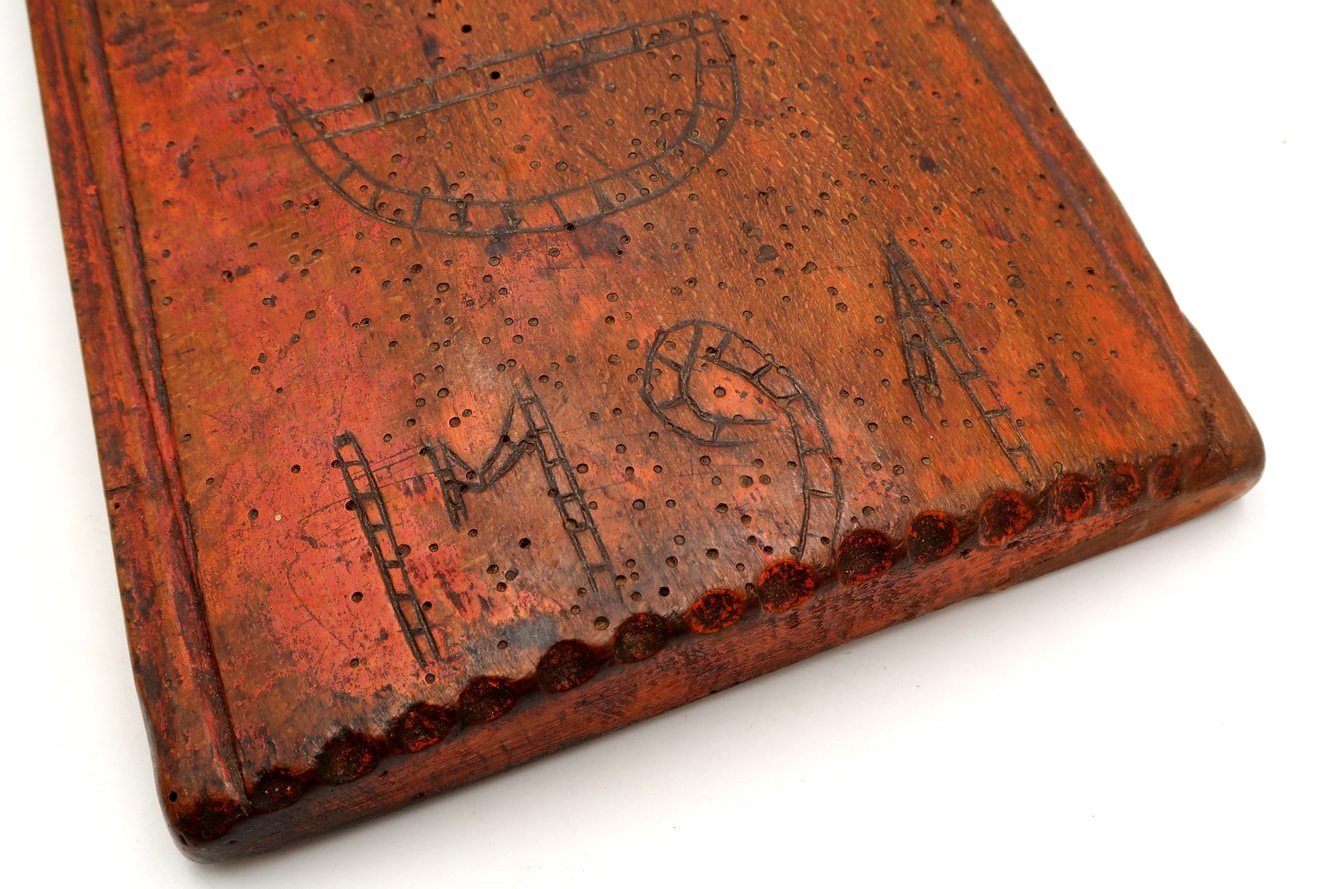 6. Norway, circa 1840, 66 x 11 cm. This mangle board is as thick as the carvings are thin. With only a few millimeters of depth, the carver has depicted a beautiful plant crowned with two flowers, as well as a dog lying down with its head raised. This is one of the only representations of a dog that I know of. This animal embodies fidelity, an important virtue in a couple. The mangle board was formerly varnished, then still used. $700.00
7. Denmark, 1747, 61 x 14 cm. In the middle of the 18th century, such decorated mangle boards were not common. Here, it appears that the sculptor appreciated vegetal motifs, and he covered not only the board, but also the horse, with plants and leaves. The latter represent life that is born and grows, as well as love and family. $700.00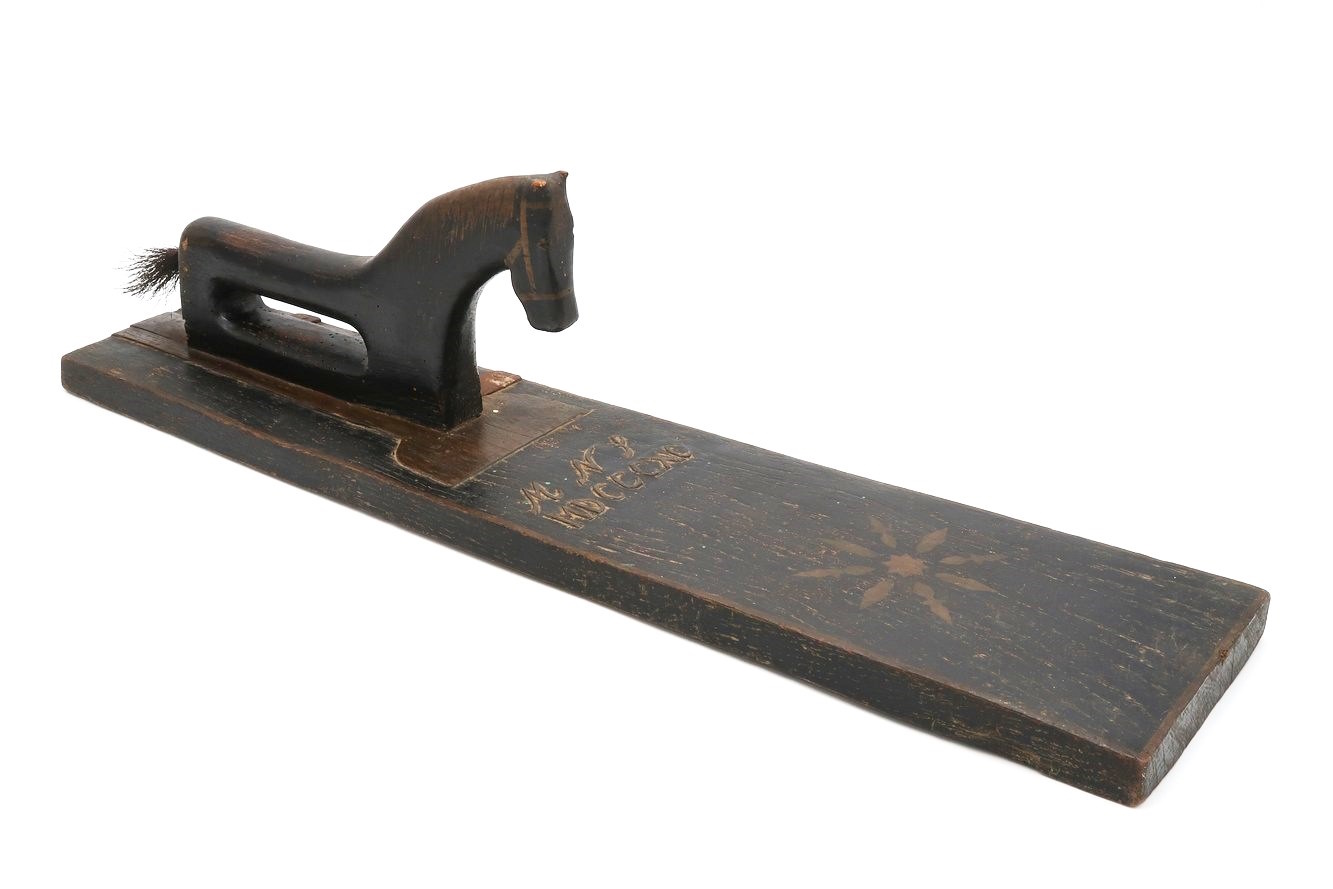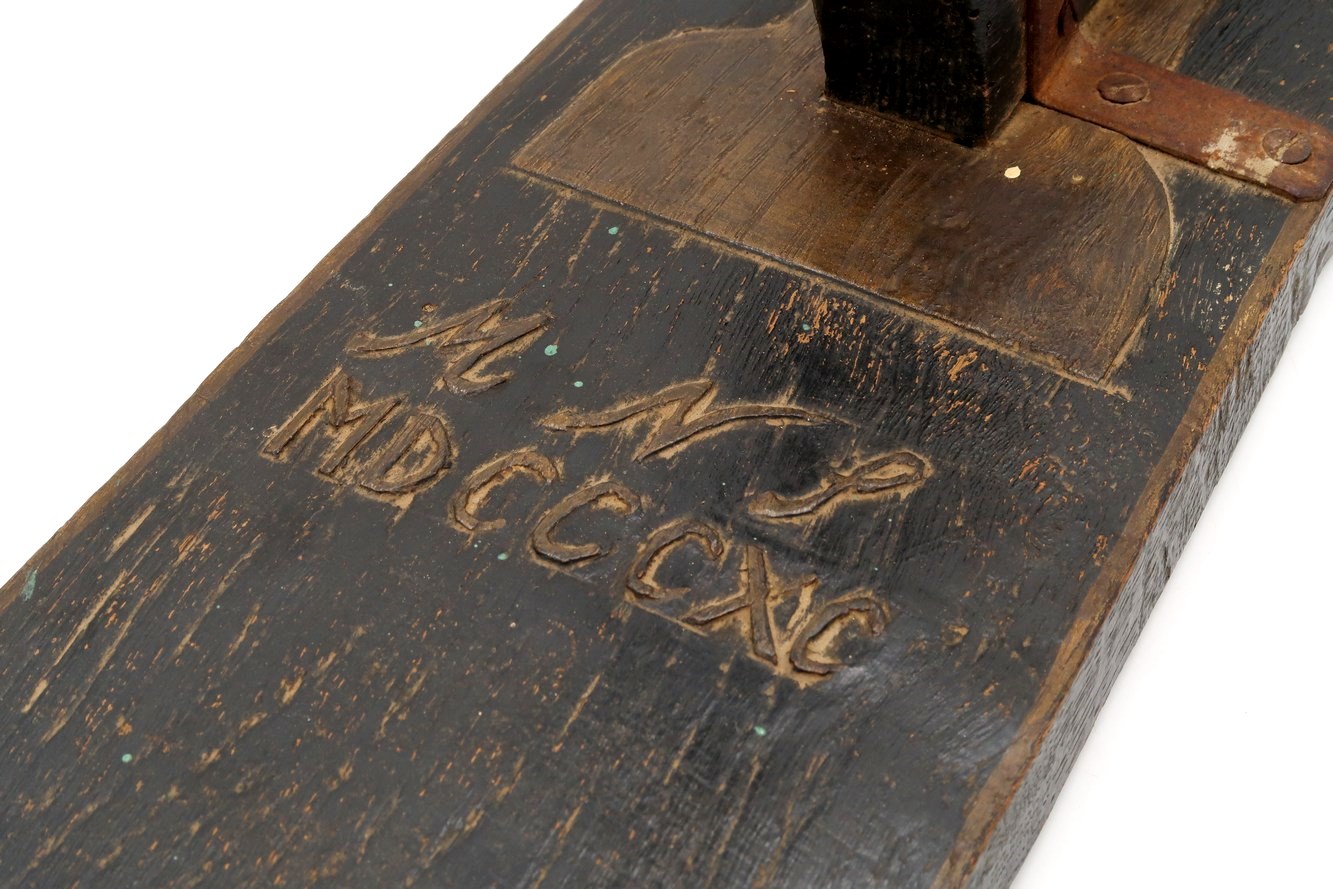 8. Norway, circa 1780, 74 x 13 cm. A beautiful old mangle board which has retained its original paint. A long two-tone vegetal pattern stretches across the board, lined with small colored touches on the sides. The horse's head is also painted, and its mane is represented by real brown hair. The patina of use is deep. The front legs were formerly broken and restored with a wrought iron nail. $975.00
9. Denmark, 1822, 66 x 14 cm. This mangle board has an extraordinary mermaid-shaped handle, which looks like the proud figurehead of a ship. Around the handle are carved two-colored waves, to reinforce the illusion of a boat sailing on the water. There is no doubt that it was a gift from a sailor rather than a farmer. Formerly repainted and still in use, this mangle board has a small gap above the left eye, due to worms. Price on request.
10. Netherlands, circa 1900, 80 x 13 cm. A surprisingly large mangle board, which illustrates the story of Adam and Eve with a series of 7 chronological scenes, in the manner of Italian church doors. At the top of the board is a single eye, the eye of God. The first scene is that of Adam naming each animal, followed by the birth of Eve from Adam's rib, their happiness in the Garden of Eden, the forbidden fruit and the serpent, the couple hiding because of their nakedness, and then when God clothed them in tunics and had them driven out of the Garden of Eden by a cherub. It is a superb example of popular piety. $400.00
11. Netherlands, circa 1900, 81 x 12 cm. This mangle board was obviously made by the same person as the previous one. Again surmounted by the eye of God, it illustrates the story of Jesus Christ in 9 chronological scenes. After the Annunciation to Mary and the birth of Jesus of Nazareth, the Magi arrive guided by the star of Bethlehem. Jesus is presented in the temple, then baptized. He then performs miracles (healing of a paralytic) and receives the kiss of Judas, after which he is crucified. This is also a fine example of popular piety. The bottom of the mangle board has a 17 cm crack restored with staples. $325.00
12. Sweden, circa 1700, 65 x 13 cm. The motifs are as varied as they are delicately carved. This mangle board required many hours of meticulous work. Among all the designs are two hearts, a reminder that this is an engagement gift. The handle is old but may not be the original one. $300.00
13. Sweden, 1741, 74 x 14 cm. Rustic mangle board, most probably made by a farmer on his farm. It is simple, efficient, and has been used a lot. $100.00
14. Denmark, 1803, 59 x 12 cm. The patterns on the mangle board are quite rustic, and the paint is original. The horse has been replaced, but it was used. It was not uncommon for a handle to break in use, and it was then replaced by another one. $400.00
To see sold mangle boards, it's here: http://mangleboard.com/index.php/sold-mangle-boards.html